beyond baroque calendar of upcoming events
Event schedule may change without prior notice.
General Admission Policy applies to all events, unless noted otherwise:
Admission $10
Students/Seniors/Children $6
Members FREE.
*This event is supported by Poets & Writers, Inc. through a grant it has received from The James Irvine Foundation.
TO PROPOSE AN EVENT, DOWNLOAD THE PROPOSAL FORM and email your information to bbproposals@gmail.com.
More info can be found by clicking our event button: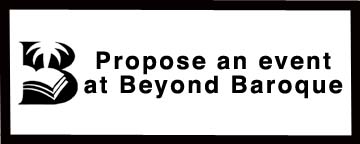 SEPTEMBER


18 September, Thursday 8:00 PM
JOHN MENAGHAN
A prize-winning poet and playwright, JOHN MENAGHAN has published three books with Salmon Poetry (Ireland): All the Money
in the World (1999), She Alone (2006), and What Vanishes (2009). Kirkus Reviews called All the Money in the World "
an auspicious beginning," and The Hudson Review named She Alone "one of the best books of 2006." Three of his plays
have been produced and one, A Rumor of Rain, was published in The Hollow & Other Plays (2008). Menaghan teaches
literature and creative writing at Loyola Marymount University in Los Angeles, where he also serves as Director of both the
Irish Studies and Summer in Ireland programs and runs an annual Irish Cultural Festival.
Jeanette Marie Clough has edited for Solo, A Journal of Poetry, and reviewed for Poetry International and Caesura.  
Flourish, (2014, Tebot Bach) was a finalist in the Seismicity (Otis College of Art and Design) and Blue Lynx (Eastern
Washington University) annual book competitions.  Earlier collections include Island (Red Hen), Cantatas, and Celestial Burn.
She is also author of two artist's books, Stone and Rx, designed by Tania Baban and published by Conflux Press.
19 September, Friday 8:00 PM
PLUME MAGAZINE ANTHOLOGY OF POETRY
A reading in support of The Plume Anthology of Poetry 2013, featuring MARK IRWIN, ARTHUR VOGELSANG, MARCI
VOGEL, RALPH ANGEL and MARK SVENVOLD. DANIEL LAWLESS hosts.
20 September, Saturday 4:00 PM
POETS OF THE FUTURE
Black Box Theater and Team Illuminate presents: An Evolutionary Journey Through music, song, poetry, performance art
drumming and channeling.
20 September, Saturday 8:00 PM
MICHAEL GREENE
A 6' 6" approval junky navigates his way through gangsters, fast cars, weird sex, bottom dealing, and the drug fueled blossom
and burn of Hollywood. MICHAEL GREENE teases you with eighty years of mistakes and triumphs from his upcoming memoir.
21 September, Sunday 4:00 PM
HITCHED
This quarterly series couples established poets and writers with their emerging counterparts as a way of celebrating accomplishments,
welcoming new voices, and broadening community. Features include ALEXIS FANCHER with JACK GRAPES, and DAVID CAMPOS
with SARA BORJAS. Hosted by XOCHITL-JULISA BERMEJO. In the Mike Kelley Gallery.
$5.00 donation requested.
21 September, Sunday 5:00 PM
JUNE MELBY: MY FAMILY AND OTHER HAZARDS
With Special Guests: BRENDAN CONSTANTINE & RICK LUPERT
A celebration for the release of June Melby's miniature golf memoir, My Family and Other Hazards, (Henry Holt, 2014),
with a performance joined by BRENDAN CONSTANTINE, RICK LUPERT, and high-diving, banjo-playing monkeys.
Party to follow. Suggested donation $5.
26 September, Friday 8:00 PM
MARK RHODES ANNUAL TS ELIOT READING
Enjoy the greatest hits of T.S. Eliot as read by MARK HODES and PHOEBE MACADAMS OZUNA. Regular Admission.
27 September, Saturday 3:00 PM to 11:00 PM
100 THOUSAND POETS FOR CHANGE GLOBAL EVENT
A global celebration of the power of art to lead the way for social, environmental and political change. Please check our
website for the schedule. Curated by Jessica Wilson and Beyond Baroque. Suggested Donation $5.
27 September, Saturday 8:00 PM
SHOWCASE: TIMOTHY STEELE, CATHERINE CHANDLER and KEVIN DURKIN
TIMOTHY STEELE is the author of four collections of poems: Uncertainties and Rest (1979), Sapphics against Anger
and Other Poems (1986), The Color Wheel (1994), and Toward the Winter Solstice (2006). The first two were reprinted
in 1995 as a joint volume, Sapphics and Uncertainties: Poems 1970-1986. Currently, he says, he is "two-thirds of the
way to another collection of poems."
CATHERINE CHANDLER has just published a second full-length collection, Glad and Sorry Seasons with Biblioasis Press,
Windsor, Ontario, 2014. Her first full-length collection of poetry, Lines of Flight (Able Muse Press, 2011) was shortlisted
for the 2013 Poets' Prize. A collection of sonnets, This Sweet Order, was published by White Violet Press in 2012.
Richard Wilbur says that Chandler's poems "offer the reader a plain eloquence, a keen eye, and a graceful development
of thought."
KEVIN DURKIN's first collection of poetry, Los Angeles in Fog, was published by Finishing Line Press in 2013. Durkin's
poems, reviews, and interviews have appeared in Poetry, The Yale Review, American Arts Quarterly, The New Criterion,
and The Philadelphia Inquirer, and have been anthologized in Poetry Daily, Irresistible Sonnets, and Able Muse Anthology.
Hosted by CHARLOTTE INNES.
27 September, Saturday 8:00 PM
MARIA MAZZIOTTI GILLAN, JAN BEATTY & WILLIAM HARRY HARDING
Join poets MARIA MAZZIOTTI GILLAN, JAN BEATTY & WILLIAM HARRY HARDING as they honor the great Wanda Coleman
with poems of wild risk and tribute. In the Mike Kelley Gallery.
28 September, Sunday 2:00 PM
THE NEBRASKA GIRL OPEN READING
Open reading with features hosted by WYATT UNDERWOOD and MELISSA ALVARADO. This month's feature: TBA.
Five-minute limit, sign ups at 1:45 PM. Suggested donation $5.
28 September, Sunday 5:00 PM
LA POEISA SALON - in the Bookstore
POESÍA FÉSTIVAL and VAGABOND PRESS BIRTHDAY PARTY of MARK LIPMANN & ANTONIETA VILLAMIL with Friends!
Bring original poetry in Spanish/bilingual to share. Potluck Party. Suggested donation $5.
28 September, Sunday 7:00 PM
7 DUDLEY CINEMA
OF TWO MINDS (2013, 89 min) Take your best day and your darkest moment...and multiply by a million. Award-winning
filmmakers Doug Blush and Lisa Klein (in person) reveal the intimate lives of extraordinary people living with bipolar disorder,
including Los Angeles artist Carlton Davis and more. Variety says "fascinating...intelligent...and compassionate" and NPR
says "provocative, intimate, gritty filmmaking". Suggested donation $5.



OCTOBER

2 October, Thursday - 8:00 PM
SUZANNE LUMMIS PUBLICATION READING
SUZANNE LUMMIS reads from her new book, Open 24 Hours with LINDA ALBERTANO, L.A. BOGEN, BRENDAN
CONSTANTINE, HENRY MORRO, CHARLES HARPER WEBB, and LIZ GONZALEZ.
Free admission with purchase of Suzanne's new book, otherwise special admission of $10.00 for all,
members $5.00.
3 October, Friday 8:00 PM
AN EVENING OF POETRY & MUSIC WITH BRIAN MICHAEL TRACY, ANDY HILL, RENEE SAFIER & MARTY RIFKIN
BRIAN MICHAEL TRACY will be reading new work from his manuscript, New Testaments. He will be joined on stage by
ANDY HILL, RENEE SAFIER & MARTY RIFKIN to perform their critically acclaimed CD, Midnight Tea.
4 October, Saturday - 3:00 PM
TRAVIS MOSSOTTI  PUBLICATION READING
In the Bookstore
TIMOTHY GREEN & TRAVIS MOSSOTTI will give a reading followed by a book signing and reception to launch Mossotti's
second collection of poems, Field Study (Bona Fide Books, 2014). Free to all.
4 October, Saturday 8:00 PM
GRASSROOTS ACOUSTICA
Songwriter series GRASSROOTS ACOUSTICA celebrates 7 years of producing benefit concerts that have raised over
$72,000 for local charities without ever charging a cover.
5 October, Sunday 5:00 PM
FIRST SUNDAY OPEN READING
Our popular monthly open reading. Features this month, TBA. Hosted by Billy Burgos. Sign ups begin at 4:45 PM.
Five-minute limit. Suggested donation $5.
5 October, Sunday 7:00 PM
LET'S AX LIKE WHITE PEOPLE
GERRY FIALKA & BRAD KAY probe the motives and consequences of the Minstrel Show, voluntary Negritude, Afrofuturism,
the relationship of Duke Ellington & Marshal McLuhan, Lenny Bruce & Frank Zappa, who said, " I'm not black, but there's
a whole lots a times I wish I could say I'm not white." Why do whites emulate blacks? With live music and rare film clips.
Suggested donation $5.
12 October, Sunday 2:00 PM
SOAP BOX OPEN READING
This is your home. Bring your words. The mic is yours. Sign ups begin at 1:45 PM. There is a five minute limit. Hosted by
JESSICA WILSON. Suggested donation $5.
12 October, Sunday - 6:00 PM
GEDDA IVES & FRIENDS
Celebrate the publication of Gedda's new book. Guest readers SARAH MACLAY, MICHAEL C FORD, MARIANO ZARO.
Hosted by BRENDAN CONSTANTINE. Suggested Donation $5.
17 October, Friday 8:00 PM
MARK RHODES AND HARRY NORTHUP
Santa Monica poet and playwright MARK RHODES reads with HARRY NORTHUP, a "wild explosioneer", who makes the
most of his love for Holly Prado, walks in East Hollywood and film acting, in his poetry.
18 October, Saturday - 11am to 3pm
BEYOND BAROQUE MINI MASTER CLASS WITH BRENDAN CONSTANTINE
'Writer's Block' is seldom a deficit of magic; it is almost always a surplus of judgement. It usually starts when we forget the
role of chance in art. Poet BRENDAN CONSTANTINE conducts a generative workshop on the history and uses of chance
in poetry. Participants are encouraged (but not required) to bring one unfinished or 'broken' poem.
PLEASE DO NOT BRING 'GOOD' OR 'FINISHED' WORK. Heart rending works of staggering genius will be turned away.
NO prior experience with poetry is needed to participate.
Non-Members $50, Members $35, Audit/Observation Only Seating $20.
Registration required: http://bbminimasterconstantine.eventbrite.com
18 October, Saturday - 8:00 PM
JAZZ COMEDIAN DAVID ZASLOFF
Jazz Comedian, DAVID ZASLOFF has been called one of the great performers of our time. David is a comedian, musician,
poet, philosopher. David plays "Zen Jazz" which is a combination of African, Japanese, Jewish, Latin, Caribbean, and bebop.

18 October, Saturday - 8:00 PM
MICHAEL DATCHER READS FROM AMERICUS
In the Mike Kelley Gallery
Inspired by Egyptian mythology and young America's coming-of-age story, MICHAEL DATCHER (author of New York Times Bestseller and
TODAY SHOW Book Club Selection, Raising Fences) explores these questions in his new novel, Americus.
19 October, Sunday - 7:00 PM
THE WRITER'S ROUND
MENDE SMITH hosts established and emerging writers in a roundtable talk show format. Writers will answer questions
from the audience and the audience is encouraged to answer the monthly Big Question.
24 October, Friday - 8:00 PM
MICHAEL C FORD & JULIAN PRIESTER
JULIAN PRIESTER is a legendary trombone player and composer whose presence has enriched numerous recordings by
John Coltrane, Lionel Hampton, Dinah Washington, Sun Ra, Art Blakely, Abbey Lincoln, and Max Roach. He will join
MICHAEL C FORD in an intricately woven accompaniment to Ford's vocal deliverance of numbers from Ford's poetry and
prose recorded catalogue. Rumors of surprise guests might not just be rumors. Join us. Be surprised!
25 October, Saturday - 2:00 PM to 5:00 PM
WORKSHOP: MICHAEL C FORD, IMAGINARY LANDSCAPES
This workshop is for anyone interested in breaking down misconceptions of standard poetry workshop writing through a
planned experience of examining a more adventurous set of guidelines designed to empower the creative imagination:
limited to an enrolment of 15.
General fee $50, Beyond Baroque Members $35. No audit seats available at this time.
25 October, Saturday - 8:00 PM
WOMEN IN METAPHOR
Twenty-seven poets from around the world share their vision of the feminine spirit, inspired by the paintings of Stephen
Linsteadt. Editor, Maria Elena B. Mahler, collected twenty-seven poems from twenty-seven accomplished, published, and
award winning poets from different parts of the world. She invited them to write a poem based on one of Stephen
Linsteadt's paintings; paintings he created over the last thirty-five years.
26 October, Sunday - 2:00 PM
NEBRASKA GIRL OPEN
In the Mike Kelley Gallery
Open reading with features hosted by WYATT UNDERWOOD and MELISSA ALVARADO. This month's features: DOUG
KEARNEY, DOUGLAS BROWN and DOUG KNOTT. Five-minute limit, sign ups at 1:45 PM. Suggested donation $5.
26 October, Sunday 4:00 PM
KATHERINE CORCORAN: LOST LOVE, PUBLICATION READING
In the Mike Kelley Gallery
An evening of poetry from Corcoran's new book, Lost Love. The author signs books after the reading. Suggested
donation $5.
26 October, Sunday - 5:00 PM
LA POESIA SALON
In the Bookstore
A salon style meet up of Spanish language and bilingual poets sharing their work. Bring poems and a snack or drink to
share. Hosted by ANTONIETA VILLAMIL. Suggested donation $5.
26 October, Sunday - 7:30 PM
7 DUDLEY CINEMA: RED REIGN with DIRECTOR MASHA SAVITZ (IN PERSON)
7:30 PM Red Reign Director Masha Savitz (in person) exposes forced organ harvesting in China of prisoners of conscience
& explores the involvement of the Western World. At 8:30 PM: My Name is Jansa Janez (2012, 69 minutes) probes the role
of one's name in private and public life, exploring the problem of homonymity and reasons for changing one's name,
drawing references from history and popular culture. Suggested donation $5.
30 October, Thursday - 8:00 PM
GREAT WEATHER FOR MEDIA
Great weather for MEDIA is an independent press based in New York City and focusing on the unpredictable, the fearless,
the bright, the dark, and the innovative. Join us for a reading by Los Angeles contributors.