beyond baroque calendar of upcoming events
Event schedule may change without prior notice.
General Admission Policy applies to all events, unless noted otherwise:
Admission $10
Students/Seniors/Children $6
Members FREE.
*This event is supported by Poets & Writers, Inc. through a grant it has received from The James Irvine Foundation.
TO PROPOSE AN EVENT, DOWNLOAD THE PROPOSAL FORM and email your information to bbproposals@gmail.com.
More info can be found by clicking our event button: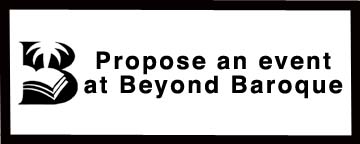 MARCH


6 March, Friday - 8:00 PM
SHARON ALEXANDER & CARINE TOPAL
Poets SHARON ALEXANDER, author of Voodoo Trombone, and CARINE TOPAL, author of God As Thief, Bed of Want, and In
The Heaven of Never Before, will infuse the evening with the sights, sounds, and sensibilities of NY and beyond.
Regular Admission.
7 March, Saturday - 6:00 PM
CORNERS OF THE MOUTH: A CELEBRATION OF THIRTY YEARS AT THE ANNUAL SAN LUIS OBISPO POETRY FESTIVAL
in the Bookstore
Readers include: LAUREL ANN BOGEN, LYNNE BRONSTEIN, JEANETTE M. CLOUGH, MICHAEL C. FORD, TAMARA
MADISON, HARRY E. NORTHUP, HOLLY PRADO, NANCY SHIFFRIN, GABRIEL SPERA, LANCE LEE, E. R. SANCHEZ,
ROBERT KRUT, MARSHA DE LA O, PHIL TAGGART, RACHEL KANN, IMANI TOLLIVER, JIM NATAL, J-SON WOOI-CHIN,
SUZANNE LUMMIS, JAMES CUSHING, KEVIN PATRICK SULLIVAN, and PATTI SULLIVAN. FREE.
7 March, Saturday - 8:00 PM
POETRY IN MOTION
Since 1988, EVE BRANDSTEIN presents an eclectic array of writers from the literary and Hollywood communities. This
season, Poetry In Motion will feature special events and solo performances.
Check out Eve's website evebrandsteinpoetryinmotion.com and Facebook page for more information.
Special General Admission – Advanced tickets $15 on Eventbrite; $20 at the door, $10 Students/Seniors;
Members $8.
8 March, Sunday - 2:00 PM
SOAP BOX POETS OPEN READING
This is your home. Bring your words. The mic is yours. Sign ups begin at 1:45 PM. There is a 7-minute limit. This month's
features: JUAN CARDENAS and TIKAL SUN. Hosted by JESSICA WILSON. Suggested donation $5.
8 March, Sunday - 7:30 PM
BRENT ARMENDINGER & ELENA MINOR
BRENT ARMENDINGER was born in the small town of Warsaw, NY, and studied at Bard College and the University of
Michigan, where he received an Avery Hopwood Award in Poetry. He is the author of The Ghost in Us Was Multiplying, a book
of poems published by Noemi Press, as well as two chapbooks, Undetectable and Archipelago.
He teaches creative writing at Pitzer College and lives in Los Angeles.
ELENA MINOR is the author of TITULADA. Her poetry and prose have been published in more than two dozen literary
journals, including Jacket2, MAKE, Hot Metal Bridge, RHINO, Puerto del Sol, Switchback, Mandorla and Shadowbox, and
are included in the anthology, Angels of the Americlypse. She is a past first-prize recipient of the Chicano/Latino Literary
Prize and founding editor of PALABRA. She also teaches creative writing to high school students.
A native of the San Francisco Bay Area, she currently resides in Los Angeles.
Suggested donation $5.
CANCELED
14 March, Saturday - 8:00 PM
RACHEL HADAS & SHALOM GOREWITZ
15 March, Sunday - 5:00 PM
PHOTO EXHIBIT OPENING:
SCENES FROM THE PROPERTY: MALIBU'S OTHER COLONY
Photographs and Paintings by LITA ALBUQUERQUE/JIM FIORITO/ STEVE KAHN. FREE.
CANCELED
15 March, Sunday - 5:00 PM
HITCHED: THE POETRY OF EMERGING COUNTERPARTS

20 March, Friday - 8:00 PM
SARAH ESTES AND JOSEPH FASANO
In the Mike Kelly Gallery
SARAH ESTES won the 2014 Cider Press Review Editors' Prize for her full-length collection, Field Work. Field Work will be
published by Cider Press Review in August, 2015. Estes's work has appeared in Agni, The Atlantic, Christian Science Monitor,
Cimarron, Crab Orchard Review, Field, New Orleans Review, Southern Review and elsewhere. Her manuscript was the runner-up
for the 2013 Cider Press Review Book Award, and has been shortlisted for the Crab Orchard Poetry Series, Dorset Prize, Four
Way Books Intro Prize, Levine Prize, Lexi Rudnitsky Prize and University of Wisconsin Press Poetry Series.
Her chapbook, Hive Bone, is forthcoming from Finishing Line Press.
She received her MFA from the University of Virginia as a Hoyns Fellow in poetry and received a Master's in religion and
culture at Harvard (with half the course-work in creative writing) as well. She has received grants and conference funding
from Bread Loaf, the University of Virginia English Department and the Institute for Humane Studies. Sarah has also taught
poetry and composition at the University of Virginia, James Madison University, Young Writers' Workshop and Tsurumaru
High School in Kagoshima, Japan. She is currently a creative nonfiction fellow with To Think, To Write, To Publish funded by
the National Science Foundation.
She lives in Los Angeles with her family and is a regular online contributor to Scientific American and Psychology Today.

JOSEPH FASANO was born and raised in New York State's Hudson River Valley. He earned a BA in philosophy from Harvard
University in 2005 and an MFA from Columbia University in 2008. His first collection of poems, Fugue for Other Hands, won
the 2011 Cider Press Review Book Award. His second and third books, Inheritance and Vincent, are forthcoming from Cider Press.
His poems have appeared in The Yale Review, The Times Literary Supplement, Tin House, FIELD, The Southern Review,
 and Boston Review, among other journals.  His poem "Mahler in New York" won the 2008 RATTLE Poetry Prize, and he has
been a finalist for the Missouri Review Editors' Prize, the Times Literary Supplement Poetry Competition, the Kinereth Gensler
Award from Alice James Books, and the Autumn House Press Poetry Prize. He has also been a semifinalist for the
"Discovery"/Boston Review Poetry Contest and the Mid-American Review James Wright Poetry Award, as well as a Pushcart
Prize nominee. JOSEPH FASANO has taught at Columbia University and SUNY Purchase, and he currently teaches literature
and writing at Manhattanville College and Columbia University.

21 March, Saturday - 11:00 AM - 3:00 PM
BEYOND BAROQUE MINI MASTER CLASS
with GAIL WRONSKY
THE POETRY OF WITNESS
General $50, Members $35, Limited Audit Seats $20. Please see the WORKSHOP section for more information on the class and registration.
21 March, Saturday - 8:00 PM
LUMMOX ANTHOLOGY #3
Celebrate the poets in LUMMOX Poetry Anthology's 3rd issue, the DESIRE / ROAD KILL issue...you never know what will happen.
Hosted by R.D. ARMSTRONG. Regular Admission $10, Students & Seniors $6, Members Free.
22 March, Sunday - 2:00 PM
THE NEBRASKA GIRL OPEN READING
In the Mike Kelley Gallery
Open reading with features hosted by WYATT UNDERWOOD and MELISSA ALVARADO. This month's feature:TBA.
Five-minute limit, sign ups at 1:45 PM. Suggested donation $5.
22 March, Sunday - 5:00 PM
LA POESÍA FESTIVAL: A MULTILINGUAL POETRY EXPERIENCE
In the Bookstore
Poesía Féstival celebrates WORLD POETRY DAY with EMILIA AYARZA and the poetry of Colombia with ANTONIETA VILLAMIL,
JOSE MANUEL RODRIGUEZ WALTEROS, DUKARDO HINESTROSA, and others TBA. Open mic.
Bring multilingual poetry to share and your favorite poem by EMILIA AYARZA. Bring poems and a snack or drink to share.
Hosted by ANTONIETA VILLAMIL.Suggested donation $5.
22 March, Sunday - 7:00 PM
7 DUDLEY CINEMA
Political Activists Cinema - Rare film clips (do they more activate or pacify?) and fiery discussion. Laughtears.com.
Free, donations appreciated.
28 March, Saturday - 8:00 PM
BORDER CROSSINGS
NYLSA MARTINEZ, a writer of fiction from Mexicali, Mexico, has published in numerous journals, including Párrafo of UCLA,
Revista de Literatura Mexicana Contemporánea, The University of Texas at El Paso, and Bengal Lights of Bangladesh.
BILL MOHR's poems, prose poems, and creative prose have appeared in more than 40 magazines.
He is currently an assistant professor of English at California State University, Long Beach.
DAVID SHOOK is a poet, filmmaker, and translator in Los Angeles. His poetry and translations have been included in
numerous journals, including The Poetry, Oxford Magazine, and Skidrow Penthouse.
ROBERTO CASTILLO is a poet and translator from Tijuana, Mexico. Considered "the Godfather of Tijuana's counterculture"
by La Prensa San Diego, he is also celebrated as the first translator of Charles Bukowski's poetry into Spanish.
Regular Admission $10, Students & Seniors $6, Members Free.
APRIL
4 April, Saturday - 3:00 PM
ALEXIS FANCHER: OPENING, READING AND RECEPTION
Poet/Photographer ALEXIS RHONE FANCHER's two year project culminates in this photo show of 30 Southern California Poets.
Opening reception & reading. All proceeds to benefit the Beyond Baroque Literary/Arts Center.
4 April, Saturday - 8:00 PM
J.R. PHILIPS READS FROM LIVING IN LOTUS LAND
J.R. PHILIPS brings to conclusion his book tour that began last November on the recent publication of Living in Lotus Land—
a Southern California odyssey from the 60s to present day. What one critic described as "the city as poem".
What another referred to "as an industrious road trip of contemplation".
5 April, Sunday - 5:00 PM
FIRST SUNDAY OPEN READING
Our popular monthly open reading. This month's feature: TBA. Hosted by STEVE GOLDMAN. Sign ups begin at 4:45 PM.
Five-minute limit. Suggested donation $5.