beyond baroque calendar of upcoming events
Event schedule may change without prior notice.
General Admission Policy applies to all events, unless noted otherwise:
Admission $10
Students/Seniors/Children $6
Members FREE.
*This event is supported by Poets & Writers, Inc. through a grant it has received from The James Irvine Foundation.
TO PROPOSE AN EVENT, DOWNLOAD THE PROPOSAL FORM and email your information to bbproposals@gmail.com.
More info can be found by clicking our event button: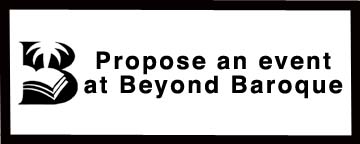 AUGUST

23 August, Saturday – 8:00 PM
GLOBAL ECONOMIC AMNESTY
An evening of poetry, theater and revolution, featuring the new work, Global Economic Amnesty, by Mark Lipman, with the
never-before-seen interactive performance of Building a People's Economy. Special guest poets from the Revolutionary
Poets Brigade, music and much more! Suggested donation $5.

24 August, Sunday – 2:00 PM
NEBRASKA GIRL OPEN READING
Open reading with features hosted by WYATT UNDERWOOD and MELISSA ALVARADO. This month's feature: RICK
LUPERT & BRENDAN CONSTANTINE. Five-minute limit, sign ups at 1:45 PM. Suggested donation $5.
24 August, Sunday – 6:00 PM
LA POEISA SALON - in the Bookstore
POESÍA FÉSTIVAL and VAGABOND PRESS BIRTHDAY PARTY of MARK LIPMANN & ANTONIETA VILLAMIL with Friends!
Bring original poetry in Spanish/bilingual to share. Potluck Party. Suggested donation $5.
31 August, Sunday 7:00 PM
7 DUDLEY CINEMA PSYBERNETIC DREAMING with RIA LIVE CINEMA (RIAPD)
Social engineers Will Erokan & Gerry Fialka's (& poets, dancers & live music) post-hypnotic triggering and hyper-maximum
multi-media "live cinema" event reinvents McLuhan's Menippean satirized Gesamtkunstwerk and breaks the Finnegans
Wake code: "what can't be coded can be decorded if an ear aye seize what no eye ere grieved fore." Turn your eyes into
ears. Poets, dancers & live music conjure the hidden psychic effects of "mediaphyillia autisticus." Suggested donation $5.

SEPTEMBER


4 September, Thursday 8:00 PM
EMILIA PHILLIPS
EMILIA PHILLIPS is the author of Signaletics (University of Akron Press, 2013) and three chapbooks. She lives in
Richmond, Virginia. In the Mike Kelley Gallery.
7 September, Sunday 4:00 PM
ART OPENING: BOB BRANAMAN & CATHY WEISS: Song of Songs, Paintings and Prints
Beyond Baroque's Artist-in-Residence debuts his latest paintings and prints. BOB BRANAMAN's tremendous body of
work includes etchings, paintings, films, books, and most recently a series of paintings and prints concerning regeneration
and love. Bob was one of the innovative artists showing at the legendary Batman Gallery in San Francisco.
His films include Ginsberg (1966) and Goldmouth (1965) starring Lawrence Ferlinghetti. 
CATHY WEISS makes marks by drawing with her gouges on wood. She then prints, paints, and layers her images to respond
to the physical, spiritual and psychological interstices we experience. In this new work she explores the ancient love poetry in
the Song of Songs. 
Art exhibit runs in the Mike Kelley Gallery through Saturday, October 4. Reception is free to all.
7 September, Sunday 5:00 PM
FIRST SUNDAY OPEN READING
Our popular monthly open reading. Features this month, TBA. Hosted by BILLY BURGOS. Sign ups begin at 4:45 PM.
Five-minute limit. $5 suggested donation.
12 September, Friday 8:00 PM
ROGER TAUS - NEW WORK
Clemens Starck has said Roger Taus' poetry is "Like small wire contraptions. Like Brancusi sculptures containing much pain
and much wry humor. Nothing like them anywhere. Cheers and bravo!" His books include Black Pony, Red Moon, gasoline
djinny & other poems, If you Ask me Where I've Been, Poems From the Combat Zone, Trophies of the Sun, and Warning.
13 September, Saturday 8:00 PM
POETRY IN MOTION
Established in 1988 by producer Eve Brandstein, PIM is in it's 4th season at Beyond Baroque with presentations by talented
local literary, theater and film artists.
SPECIAL ADMISSION: $15 in advance on Eventbrite, $20 at the door, $10 Students & Seniors, $8 Members.
14 September, Sunday 2:00 PM
SOAP BOX OPEN READING
This is your home. Bring your words. The mic is yours. Sign ups begin at 1:45 PM. There is a five minute limit. Hosted by
JESSICA WILSON. Suggested donation $5.
14 September, Sunday 4:00 PM
ROBBI NESTER
ROBBI NESTER is the author of a chapbook, Balance (White Violet, 2012) and a collection of poems, A Likely Story
(Moon Tide, 2014), as well as the editor of an anthology, The Liberal Media Made Me Do It! (Nine Toes, 2014).
ROBBI NESTER published poems in numerous print magazines and journals including Seneca Review, Sycamore Review, Callaloo,
Ploughshares, and Tikkun, and on-line in Cortland Review, Inlandia, and Qartsiluni.
14 September, Sunday 8:00 PM
PAUL KIRSCH
Paul Kirsch gives a talk on those creative individuals who are severely disenfranchised from the dominant political parties,
and to whom creative expression is primary in their existence. $5.00 donation requested.