beyond baroque calendar of upcoming events
Event schedule may change without prior notice.
General Admission Policy applies to all events, unless noted otherwise:
Admission $10
Students/Seniors/Children $6
Members FREE.
*This event is supported by Poets & Writers, Inc. through a grant it has received from The James Irvine Foundation.
TO PROPOSE AN EVENT, DOWNLOAD THE PROPOSAL FORM and email your information to bbproposals@gmail.com.
More info can be found by clicking our event button: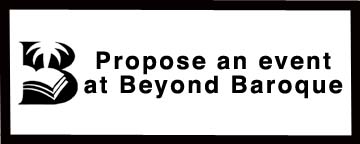 DECEMBER
6 December, Saturday - 8:00 PM
POETRY IN MOTION
Since 1988, EVE BRANDSTEIN presents an eclectic array of writers from the literary and Hollywood communities.
This season Poetry In Motion will feature special events and solo performances. Check out her website evebrandsteinpoetryinmotion.com
and Facebook page for more information.
Special admission: General $20 or $15 at Eventbrite, Students & Seniors $10, and Members $8.
7 December, Sunday – 5:00 PM
FIRST SUNDAY OPEN READING
Our popular monthly open reading. Features this month, TBA. Hosted by BILLY BURGOS. Sign ups begin at 4:45 PM.
Five-minute limit. $5 Suggested Donation.
7 December, Sunday – 7:00 PM
ANTHOLOGY READING: BEYOND THE LYRIC MOMENT
A reading celebrating the publication of Beyond the Lyric Moment, the new Tebot Bach anthology of poetry from Southern
California workshops with David St. John. Hosted by co-editors LYNNE THOMPSON, CATHIE SANDSTROM, and JIM NATAL.
12 December, Friday – 8:00 PM
CINDY CRUZ, ALLISON BENIS WHITE, JEFF GRIFFIN, NIK DE DOMINIC & LOUISE MATHIAS
CYNTHIA CRUZ's poems have been published in the New Yorker, Paris Review, Boston Review, American Poetry Review,
Kenyon Review, and others. Cynthia's current collection is Wunderkammer. She teaches at Sarah Lawrence College and
lives in Brooklyn.
LOUISE MATHIAS is the author of Lark Apprentice published by New Issues Press (2004), and a chapbook, Above All Else,
the Trembling Resembles a Forest. She splits her time between Joshua Tree—a small town in California's Mojave Desert—
and Northern Indiana.
ALLISON BENIS WHITE is the author of Small Porcelain Head, selected by Claudia Rankine for the Four Way Books Levis
Prize, and Self-Portrait with Crayon, winner of the Cleveland State University Poetry Center First Book Prize. Her honors
include the Indiana Review Poetry Prize, the Bernice Slote Award from Prairie Schooner, and a Writers Exchange Award
from Poets & Writers. She teaches at the University of California, Irvine.
JEFF GRIFFIN holds an MFA from the Iowa Writers' Workshop. An associate at Griffin Moss Industries, Inc., he also
operates the publishing house Slim Princess Holdings. He is the author of Lost and (University of Iowa Press, 2013).
He teaches in, and lives around, Nevada.
NIK DE DOMINIC is an essayist and poet. Writing has appeared in Guernica, DIAGRAM, Michigan Quarterly Review, Verse
Daily, and elsewhere. He is a Poetry Editor of the New Orleans Review and a founding editor of The Offending Adam. He is
currently at work on a manuscript about mimes and the wild west.
14 December, Sunday – 2:00 PM
SOAPBOX OPEN READING
Our popular monthly open reading. Features this month, TBA. Hosted by Billy Burgos. Sign ups begin at 4:45 PM.
Five-minute limit. $5 Suggested Donation.
14 December, Sunday – 7:30 PM
RANDY CAUTHEN PUBLICATION READING
Randy Cauthen, Poet-in-Residence at CSU-Dominguez Hills, has published three books: The Use of Force, Black Letters,
and Slow Night. He's also a playwright and actor, most notably in the World Premier of Samuel Beckett's "Radio One."
19 December, Friday – 8:00 PM
I DIDN'T SURVIVE SLAVERY FOR THIS
A multi-media performance & poetry reading featuring writer/director PAM WARD. Fellow World Stage poets V. KALI,
TCHISE AJE and JAHA ZAINABU join Ward in riffing on life 150 years post slavery. Signing in the bookstore after the show.
20 December, Saturday – 8:00 PM
MICHAEL ROTHENBERG & FRIENDS
Shabda Press publisher and editor TERESA MEI CHUC will host a celebration of the publication of MICHAEL ROTHENBERG's
new book of poems, Indefinite Detention: A Dog Story. Guest readers round out the show.
21 December, Sunday – 2:00 PM
M.J. TAYLOR & FRIENDS
Kleft Jaw Poets FRANKIE METRO, LINDSEY THOMAS, DUSTIN HOLLAND, WILLIAM SEWARD and MJ TAYLORr sling words
to the moon & make your winter solstice dreams come true. $5 Suggested Donation.
21 December, Sunday – 5:00 PM
HITCHED
This quarterly series couples established poets and writers with their emerging counterparts as a way of celebrating accomplishments,
welcoming new voices, and broadening community.HOSTED BY XOCHITL-JULISA BERMEJO.
$5 Suggested Donation.
28 December, Sunday – 2:00 PM
LA POESIA SALON - In the bookstore
A salon style meet up of Spanish language and bilingual poets sharing their work. Bring poems and a snack or drink to share.
Hosted by ANTONIETA VILLAMIL. Suggested donation $5.
28 December, Sunday – 7:30 PM
7 DUDLEY CINEMA: EXPERIMENTAL FILMS
With JULIAN SEMILIAN and RAG'n'BONES, who perform live music and poetry with avant garde moving image art. Laughtears.com
Suggested Donation $5.