beyond baroque calendar of upcoming events
Event schedule may change without prior notice.
General Admission Policy applies to all events, unless noted otherwise:
Admission $10
Students/Seniors/Children $6
Members FREE.
*This event is supported by Poets & Writers, Inc. through a grant it has received from The James Irvine Foundation.
TO PROPOSE AN EVENT, DOWNLOAD THE PROPOSAL FORM and email your information to bbproposals@gmail.com.
More info can be found by clicking our event button: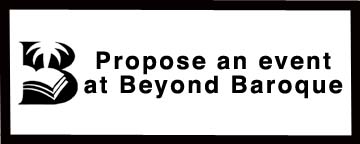 APRIL
19 April, Saturday – 2:00 PM
OCEAN FRIENDLY GARDEN DEDICATION
All Venice community and beyond are encouraged to join us for food, drinks and an egg hunt for the kids as part of the
dedication of our now flourishing ocean friendly garden. The garden was built with a grant from Keep Los Angeles Beautiful,
the direction of the Surfrider Foundation, and the help of community volunteers. FREE to all.
19 April, Saturday – 4:00 PM
WILL ALEXANDER PRESENTS: A COLLABORATIVE NEXUS
Beyond Baroque's poet-in-residence has programmed an exciting collaborative evening of poetry featuring HAROLD ABRAMOWITZ,
JANICE LEE, MICHAEL DU PLESSIS and AMANDA ACKERMAN.
JANICE LEE is the author of, KEROTAKIS (Dog Horn Press, 2010), Daughter (Jaded Ibis, 2011), Damnation (Penny-Ante Editions, 2013),
a book-length meditation on the films of Béla Tarr, and most recently, The Transparent As Witness (Solar Luxuriance, 2013),
a collaboration with Will Alexander. She currently lives in Los Angeles where she is Co-Editor of [out of nothing],
Reviews Editor at HTMLGIANT, Editor of the new #RECURRENT Novel Series for Jaded Ibis Press, Co-Executive
Editor of Entropy, and Founder/CEO of POTG Design.
She currently teaches at CalArts and can be found online at http://janicel.com. 
MICHAEL DU PLESSIS is the author of, The Memoirs of JonBenet by Kathy Acker (Les Figues Press, 2012) and has
written about topics from Goth culture to the French fin-de-siècle.

AMANDA ACKERMAN is the author of the chapbooks, The Seasons Cemented (Hex Presse), I Fell in Love with a Monster
Truck (Insert Press Parrot #8), and Short Stones (Dancing Girl Press). She has co-authored Sin is to Celebration
(House Press), the Gauss PDF UNFO Burns a Million Dollars, and the forthcoming novel Man's Wars And Wickedness
(Bon Aire Projects). She is co-publisher and co-editor of the press eohippus labs and writes collaboratively as part of
SAM OR SAMANTHA YAMS and UNFO. Her book, The Book of Feral Florais is forthcoming from Les Figues press.

HAROLD ABRAMOWITZ is a writer and editor from Los Angeles. His books include, Blind Spot (forthcoming from Les
Figues Press), Man's Wars And Wickedness: A Book of Proposed Remedies & Extreme Formulations for Curing Hostility,
Rivalry, & Ill-Will (with Amanda Ackerman, forthcoming from Bon Aire Projects), Not Blessed (Les Figues Press), and
Dear Dearly Departed (Palm Press). Harold co-edits the short-form literary press eohippus labs, and writes and edits
as part of the collaborative projects, SAM OR SAMANTHA YAMS and UNFO.

19 April, Saturday – 8:00 PM
HOSTING THE HOSTS
An evening of readings from the hardest working poets in Los Angeles: poetry show hosts. Readers include SUSAN
HAYDEN, MENDE SMITH, and RICK LUPERT, among others.
20 April, Sunday – 4:30 PM
WANDA COLEMAN FILM SCREENING
The Wanda Coleman Project: Genius. Directed by Bob Bryan who will be present to introduce his definitive documentary.
A "must-see" interview if you've ever loved the writings of Wanda Coleman, author of over 20 books of poetry, or if you're interested
in finding out what her beautiful life, poetic conceptual process and philosophy of creative writing was all about.
FREE, but donations always appreciated.
20 April, Sunday – 7:00 PM
THE WRITER'S ROUND
An evening with well-known, beloved writers in L.A in a group forum where the audience can engage with the work and
the words. Featuring: STEVE ABEE, CONNEY WILLIAMS, BRETT CANDACE, JACK GRAPES.
20 April, Sunday – 8:00 PM
TARFIA FAIZULLAH: SEAM
Tarfia Faizullah's first book, Seam (Southern Illinois University Press), was the winner of the 2013 Crab Orchard Series in
Poetry First Book Award. Her poems have appeared in a number of journals, including Ploughshares, The Missouri Review,
New England Review, and elsewhere. She has been fortunate enough to be the recipient of a Fulbright fellowship,
scholarships from Bread Loaf Writers' Conference and Sewanee Writers' Conference, fellowships from Kenyon Review
Writers' Workshop and Vermont Studio Center, and other honors. In the Mike Kelley Gallery. 

22 April, Tuesday – 3:00 PM to 6:00 PM
EARTH DAY: LEARN ABOUT COMPOST
Join Kiss the Ground for Earth Day at Beyond Baroque to learn about compost and the link between soil health and human health.
We will be discussing the plans to transform the area in front of the Venice Fire station, Beyond Baroque, and
SPARC into a community gathering area and demonstration garden. Activities will include: Building compost bins, learning
how to compost, music and a potluck.

25 April, Friday – 8:00 PM
A POETS' BIRTHDAY CELEBRATION: CHARLES BAUDELAIRE & SEAMUS HEANEY
Join us for a celebratory reading of two great poets that go great together. Readers are HELENE CARDONA and DAVE MCINTIRE.
Hosted by CARLYE ARCHIBEQUE.
26 April, Saturday – 4:00 PM
VERONICA REYES & MATT SEDILLO
VERONICA REYES is a Chicana jota poet from East L.A., California. She earned her BA from California State University,
Long Beach and her MFA from University of Texas, El Paso. Her work has appeared in Calyx, Feminist Studies, ZYZZYVA,
and The New York Quarterly, and Chopper! Chopper! is her first book.
California-born MATT SEDILLO is a two-time national slam poet, grand slam champion of the Damn Slam (Los Angeles,
2011) and author of For What I Might Do Tomorrow. He writes from the vantage point of a second generation Chicano-born
in an era of diminishing opportunities and a crumbling economy. 
His writing, a fearless, challenging and at times even confrontational blend of humor, history and political theory, is a reflection
of those realities.
26 April, Saturday – 8:00 PM
PEN CENTER SHOWCASE READING
Line up to be announced. Please check our website closer to the date.
27 April, Sunday – 2:00 PM
THE NEBRASKA GIRL OPEN READING
Open reading with features, hosted by Wyatt Underwood and Melissa Alvarado. This month's features: F. DOUGLAS
BROWN, and BILLY BURGOS. Five-minute limit, sign ups at 1:45 PM.
FREE, but donations always welcome.
27 April, Sunday – 4:00 PM
RED HEN'S NATIONAL POETRY MONTH SHOWCASE
Join Red Hen Press in celebrating National Poetry Month with readings from poets GARY GEDDES, NICELLE DAVIS, KIM DOWER,
and BRENDAN CONSTANTINE.
27 April, Sunday – 7:00 PM
7 DUDLEY CINEMA – KENT HAYWARD FILMS (in person)
Personal documentary about the filmmaker's family rediscovering their lost homestead in rural New Mexico and the pieces
of history buried there. Los Angeles Times' Kevin Thomas: "Deeply affecting… Hayward has succeeded beautifully."
LA Weekly: "An affecting rumination on the importance of memories." FREE, but donations always welcome.
MAY

2 May, Friday – 8:00 PM
MASON'S NOISE PARLOUR
The fourth installment of Noise Parlour features comedian/performance artist MILO BORSUK, 17, singer-songwriter
VANESSA ACHOY, 16, poet NATALIE CASE, 19, and the host, 17-year-old MASON SUMMIT, performing with SPENCER
SHAPEERO, also 17, as The Clowns Will Eat Me.
2 May, Friday – 8:00 PM
ROBERT MCDOWELL
ROBERT MCDOWELL shares poems of others and his own from his just released book, The World Next to This One
(The Salmon Publishing). In the Mike Kelley Gallery.
3 May, Saturday – 2:00 PM
BREAKING THE RULES PUBLICATION PART & NPM KICKOFF
Join us for the publication party for the completed anthology from the Irvine Student Workshops.
3 May, Saturday – 4:00 PM
ROBERT MCDOWELL WORKSHOP
Join poet/storyteller/teacher/speaker/editor ROBERT MCDOWELL for a workshop exploring poetry as spiritual practice.
Bring your notebooks, enjoy sharing and engage with provocative, fun exercises.
$50.00 for non-members, $35.00 members.
3 May, Saturday – 8:00 PM
POETRY IN MOTION
Established in 1988 by producer EVE BRANDSTEIN, PIM presents talented local literary, theater and film artists.
SPECIAL ADMISSION: $15 in advance on Eventbrite, $20 at the door, $10 Students & Seniors, $8 Members.
4 May, Sunday – 3:00 PM
DOUBLE HAPPINESS READING
TONY BRASUNAS reads from his memoir of his life changing experiences, living for a year in China as a 22-year-old.
In the bookstore.
FREE, but donations always appreciated.
4 May, Sunday – 5:00 PM
FIRST SUNDAY OPEN READING
Our popular monthly open reading. Features this month, TBA. Hosted by Billy Burgos. Sign ups begin at 4:45 PM.
Five-minute limit. Free, but donations always appreciated.
4 May, Sunday – 7:30 PM
ALEX FRANKEL PUBLICATION READING
ALEX M. FRANKEL reads from his new book of poetry, Birth Mother Mercy. He has been published in various journals,
notably the South Carolina Review.
9 May, Friday – 8:00 PM
DIANE WAKOSKI
DIANE WAKOSKI, described as an "important and moving poet" by Paul Zweig in the New York Times Book Review, is
frequently named among the foremost contemporary American poets by virtue of her experiential vision and her unique
voice. She has invented and incorporated personae from mythology and archetype as a liberation from what she has
called the "obsessive muse," that spurs writers to face their personal terrors and turn them into art. Wakoski makes a
rare not-to-be missed appearance in Los Angeles. Hosted by HARRY NORTHUP.
$10 GENEARL ADMISSION TICKETS AVAILABLE AT EVENTBRITE, Students & Seniors $6, tickets available at the door
on shownight. Members free, members admitted at the door on shownight - no advance reservations available for
students, seniors or members.
10 May, Saturday – 8:00 PM
A POETS' BIRTHDAY CELEBRATION: WALT WHITMAN & RALPH WALDO EMERSON
Join us for a celebratory reading of two great poets that go great together. Features: RICH FERGUSON, MICHEAL LEON
DeWITT, and others. Hosted by CARLYE ARCHIBEQUE
11 May, Sunday – 2:00 PM
SOAPBOX OPEN READING
This is your home. Bring your words. The mic is yours. Sign ups begin at 1:45 PM. There is a five minute limit.
Hosted by JESSICA WILSON. FREE, but donations are always welcome.
16 May, Friday – 8:00 PM
PHOENIX RISING WITH JOHN LANDAU
A multi-media rendition in iambic pentameter of the original Star Wars movie.