beyond baroque calendar of upcoming events
Event schedule may change without prior notice.
General Admission Policy applies to all events, unless noted otherwise:
Admission $10
Students/Seniors/Children $6
Members FREE.
TO PROPOSE AN EVENT, DOWNLOAD THE PROPOSAL FORM and email your information to bbproposals@gmail.com.
More info can be found by clicking our event button: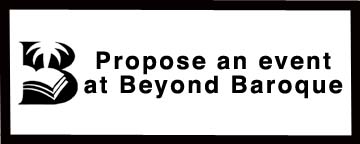 DECEMBER
8 December, Sunday - 2:00 PM
SOAP BOX OPEN READING
This is your home. Bring your words. The mic is yours. Sign ups begin at 1:45 PM. There is a five minute limit.
This month's feature is Scott Heron. Hosted by JESSICA WILSON.
FREE, but donations are always welcome.
8 December, Sunday - 5:00 PM
TONGUE IN GROOVE: STUDENTS FROM CATHY COLMAN'S WORKSHOP
CATHY COLMAN offers up deep, delicious and entertaining reading of fiction and poetry from award-winning authors
who have published novels, poetry collections, and hundreds of moving, cutting edge pieces in literary magazines
from AGNI to ZZYVA.
8 December, Sunday - 8:00 PM
COASTLINES MAGAZINE RETROSPECTIVE
"THE BEST OF POETRY IN THE WORST OF TIMES," is what Philip Levine called the work of poets and writers in
Coastlines Literary Magazine and the California Quarterly of the 50's. MEL WEISBURD, the only surviving founding
editor of Coastlines, gives a first hand account of writers, artists and events, many of whom were greatly influenced
by the poet teacher Tom McGrath. Coastlines published the first literary accounts of an LSD experience, the legendary
Ginsberg Full Monty, debates with Lawrence Lipton and anti-nuclear war and peace marches.
A slide show of contributors and art work will be presented.
8 December, Sunday - 8:00 PM
RENNY GOLDEN, MICHAEL C FORD & PHOEBE MCADAMS OZUNA
In the Mike Kelley Gallery
RENNY GOLDEN's latest book of poetry, Blood Desert: Witnesses 1820-1880 won the WILLA Literary Award for
2010-2011 and was named a Southwest Notable Book of the Year 2012. PHOEBE MCADAMS OZUNA's latest book
is Touching Stone. Hen House studios is launching MICHAEL C FORD's recording project Look Each Other in the Ears. 

13 December, Friday - 8:00 PM
RONEE BLAKLEY
RONEE BLAKLEY, singer/songwriter/actor/filmmaker/ publisher, and poet, presents the first solo reading of her
spoken word. Her first published poem was in the Closing Defense Statement of Angela Davis, most recently at
Eve Brandstein's Poetry in Motion where she read a recent piece about Allen Ginsberg.
15 December, Sunday - 2:00 PM
THE GREAT BEYOND OPEN READING
Our every-third-Sunday open reading series hosted by JESSICA CEBALLOS welcomes poets and writers of all ages.
5-minute limit. Featuring KAREN RIGBY. Sign-up starts at 1:45 PM.
FREE, but donations are always welcome.
15 December, Sunday - 5:00 PM
POETS BIRTHDAY CELEBRATION: KENNETH PATCHEN & KENNETH REXROTH
Join us for a celebration of the lives and poetry of two amazing poets. Featured readers include MICHAEL C FORD.
Hosted by CARLYE ARCHIBEQUE.
15 December, Sunday - 8:00 PM
MUSIC AT THE EASEL: READING/VISUAL/SOUND
MARILYN LAGRONE-AMARAL, author/artist, will perform her mixed media audience directed program based on her book,
Music at The Easel prose poetry painting with a multicultural soundtrack and a power point presentation of her paintings.
19 December, Thursday - 7:30 PM
METAPHOR AS MEMORY
GERRY FIALKA probes McLuhan and Chris Marker, who said "I remember the images I filmed."
FREE, but donations are always welcome.
20 December, Friday - 8:00 PM
LA POESIA FESTIVAL MIGRACIÓN DEL CANTO
A performance and publication party. Anthology published by Caza de Poesía. Bring original poetry, prose, and
songs in Spanish to share.
22 December, Sunday - 2:00 PM
NEBRASKA GIRL READING
Open reading with features hosted by WYATT UNDERWOOD and MELISSA ALVARADO. This month's feature:
CONNEY WILLIAMS. Five minute limit, sign ups at 1:45 PM.
FREE, but donations always welcome.
22 December, Sunday - 7:00 PM
7 DUDLEY CINEMA: GOSPEL MUSIC FILMS
The evening traces the evolution of Gospel through its many musical styles, the integration of blues and swing
into Gospel, the emergence of Soul, and the blending of Rap and Hip Hop elements. Hosted by GERRY FIALKA.
FREE but donations always welcome.