beyond baroque calendar of upcoming events
Event schedule may change without prior notice.
General Admission Policy applies to all events, unless noted otherwise:
Admission $10
Students/Seniors/Children $6
Members FREE.
*This event is supported by Poets & Writers, Inc. through a grant it has received from The James Irvine Foundation.
TO PROPOSE AN EVENT, DOWNLOAD THE PROPOSAL FORM and email your information to bbproposals@gmail.com.
More info can be found by clicking our event button: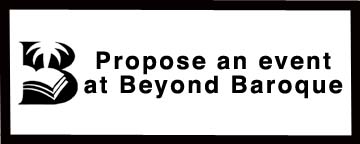 OCTOBER


30 October, Thursday - 8:00 PM
GREAT WEATHER FOR MEDIA
Great weather for MEDIA is an independent press based in New York City and focusing on the unpredictable, the fearless,
the bright, the dark, and the innovative. Join us for a reading by Los Angeles contributors.

NOVEMBER


1 November, Saturday - 8:00 PM
POETRY IN MOTION: DYLAN BRODY
Since 1988, Eve Brandstein presents an eclectic array of writers from the literary and Hollywood communities. This season
Poetry In Motion will feature special events and solo performances.
Special General Admission:
Advanced tickets $15 on Eventbite; $20 at the door, $10 Students/Seniors; Members $8.
Check out her website and Facebook page for more information.
2 November, Sunday - 5:00 PM
FIRST SUNDAY OPEN READING
Our popular monthly open reading. Features this month: TBA. Hosted by BILLY BURGOS. Sign ups begin at 4:45 PM.
Five-minute limit. $5 suggested donation.
2 November, Sunday - 7:30 PM
SHADAB HASHMI & ANGELA TORRES
SHADAB ZEEST HASHMI's poems have appeared in Poetry International, Nimrod, and other places. Her essays have
been published in the Journal of Contemporary World Literature and in the Washington Post.
ANGELA TORRES' first book of poetry, Blood Orange, won the Willow Books Literature Award for Poetry and was published
by Willow Books/Aquarius Press in September 2013. Suggested Donation $5.
2 November, Sunday - 7:30 PM
WILL ALEXANDER & PETER COLE
A New Directions evening with poets WILL ALEXANDER and PETER COLE.
Both poets engage language through stunning alchemical presence. Alexander, "filled with the spirit of Aime Cesaire and
Sun Ra" makes winged forays into hyper- dimensional clarification,while Cole has been called "one of the most vital poets
of his generation." His "affective range is wide and the forms restless." An arresting poet, "with transcendental yearnings",
who translates from both contemporary Hebrew and Arabic. This stands to be an evening poetry lovers will covet as a
treasured gem. Suggested Donation $5.
2 November, Sunday - 8:00 PM
GEFFREY DAVIS - In the Mike Kelley Gallery
Dorianne Laux calls this Poulin Prize-winning collection "one of the best first books I've read in a while... spellbinding."
Terrance Hayes says Davis "translates and transforms our contemporary modes of love, violence and history."
Co-feature: F. DOUGLAS BROWN of Los Angeles is the 2013 Cave Canem Poetry Prize recipient for Zero to Three
(University of Georgia Press 2014). His poems have appeared in Toegood Poetry, The Sugar House Review, Cura
Magazine, Muzzle Magazine, Transfer Magazine and Santa Clara Review.
7 November, Friday - 8:00 PM
In the Mike Kelley Gallery
DOREN ROBBINS, LINDA JANKOS & SHARON DUBIAGO
DOREN ROBBINS' poetry, prose poetry, and short fiction has appeared in over 100 literary journals. He is the author of
My Piece of the Puzzle, Driving Face Down, and The Donkey's Tale, among many others.
LINDA JANKOS is a poet and film maker whose works include the documentaries Descendants of the Imagination and Can
You See Me?
SHARON DUBIAGO is the author of Hard Country, South America Mi Hija, which was nominated twice for the National Book Award.
The Husband Arcane,The Arcane of O, Psyche Drives the Coast won the Oregon Book Award. Body and Soul
includes her third Pushcart Prize, "How To Make Love To A Man," and was a finalist in the PEN WEST 2001 Book Award for Poetry.
8 November, Saturday - 6:30 PM Reception & Signing/7:30 PM Reading
RETURNING SOLDIERS SPEAK
Veterans who have served from the Korean War to Operation Enduring Freedom will read prose and poetry in their own
words. Reception and book-signing table begins at 6:30 pm. In memory of Lee Mingh Sloca. Suggested donation $5.
8 November, Saturday - 8:00 PM
RAFAELLA DEL BOURGO & GUESTS
in the Mike Kelley Gallery
Join poets RAFAELLA DEL BOURGO, DAVID DEL BOURGO, and MICHELLE BITTING for an evening of poetry.
9 November, Sunday - 2:00 PM
SOAP BOX OPEN READING
This is your home. Bring your words. The mic is yours. Sign ups begin at 1:45 PM. There is a five-minute limit.
Hosted by JESSICA WILSON. Suggested donation $5.
9 November, Sunday - 3:00 PM
5TH ANNUAL BEYOND BAROQUE POETRY CONTEST READING
Winners and runners up from judge DAVID ST. JOHN read their poems. Hosted by Beyond Baroque Board President,
DOUG KNOTT. Suggested donation $5.
9 November, Sunday - 4:00 PM
ROXANNE DUNBAR-ORTIZ
In the Mike Kelley Gallery
Join legendary feminist and Native American activist ROXANNE DUNBAR-ORTIZ for a publication reading of her new book,
An Indigenous Peoples' History of the United States. Suggested donation $5.
9 November, Sunday - 8:00 PM
ANDREW ZAWACKI
ANDREW ZAWACKI is the author of four poetry books and co-translated and edited Slovenian writer Aleš Debeljak's
Without Anesthesia: New and Selected Poems. He also co-edits the international poetry journal Verse and direct the
doctoral creative writing program at the University of Georgia. Suggested donation $5.
14 November, Friday - 8:00 PM
A COUPLE OF POETS: MELTZER & ROGERS
A Couple of Poets -DAVID MELTZER and JULIE ROGERS read from new work & chapbooks and indulge in their improv
duet, "Fours."
JULIE ROGERS has published five chapbooks. Her work has been featured in many journals and anthologies. In 2012, her
first selected collection of poetry spanning thirty years of work, House Of The Unexpected, was published by Wild Ocean
Press. Omerta Publications released a new chapbook, Street Warp, in 2013. Julie teaches creative writing to kids and teens.
Visit the website at  www.julrogers.com. "Few poems are written as close to the heart -- no extra words just soul meanings…"
Michael McClure, Beat Poet, author, novelist, artist.
15 November, Saturday - 4:00 PM
WE BE SISTERS, WE BE FRIENDS
Poet/performer DEBORAH EDLER BROWN and writer/actress MARIANNE SIMON read poems and stories of love, lust, loss,
and sisterhood.
15 November, Saturday - 8:00 PM
OUTRIDERS TALES: STORIES OF GINSBERG, CASSADY & OTHERS
Tales about the Beats from those who have lived to tell the tales: DAVID MELTZER, BOB BRANAMAN, MARC OLMSTED &
RICHARD MODIANO.
16 November, Sunday - 2:30 - 5:00 PM
DAVID MELTZER ON WALLACE BERMAN with SPECIAL GUEST GEORGE HERMS
Join living Beat legend, poet DAVID MELTZER who will give a talk on the art and artistry of Wallace Berman, show slides of Berman's work,
and banter with GEORGE HERMS about it all. It will be practically historical!
Special Admission: General Admission $15, Students/Seniors $8, Members $5.
16 November, Sunday - 7:00 PM
GEDDA ILVES PUBLICATION PARTY
More details TBD.

21 November, Friday - 8:00 PM
TONY DEANNUNTIS
What Books Press, a collective of diverse literary and visual artists, will be launching A.S. DEANNUNTIS newest novel,
The Final Death of Rock and Roll and Other Stories.
CHUCK ROSENTHAL, the author of West of Eden, and GAIL WRONSKY, the author of So Quick Bright Things will be
reading new work as will LYNNE THOMPSON, author of Start with a Small Guitar.
22 November, Saturday - 4:00 PM
RECEPTION: THE THIRD DIMENSION SCULPTURE EXHIBIT
Join us for wine, snacks and sculptures by Rabyn Blake, Terri Bromberg, Bob Branaman, Susan Spano and Mike M. Mollett.
Exhibit runs until December 20th. Suggested donation $5.
22 November, Saturday - 8:00 PM
DONNA SNYDER, CHRISTIAN ALVAREZ & YVONNE DE LA VEGA
In the Mike Kelley Gallery
DONNA SNYDER is the author of Poemas ante el Catafalco: Grief and Renewal (Chimbarazu Press). Her next book,
Three Sides of the Same Moon, is due out in 2015.
CHRISTIAN ALVAREZ is a radio host, musician, slanger, his first collection of poems, The Beat, can be found on Amazon or
through Shoebox Volumeknob Books.
YVONNE DE LA VEGA was born and raised in Los Angeles, and her works embody the very spirit of the city. Yvonne
has recorded spoken word with numerous great names in the music and recording industry, including tracks produced
by Ray Manzarek of The Doors, she features on Jump Street with Herb Alpert, (A&M Records) a Spoken Word and hip
hop single that showcases her poetry with Alpert's music.
23 November, Sunday - 2:00 PM
THE NEBRASKA GIRL OPEN READING
In the Mike Kelley Gallery
Open reading with features hosted by WYATT UNDERWOOD and MELISSA ALVARADO. This month's feature: GERALD
LOCKLIN & Son. Five-minute limit, sign ups at 1:45 PM. Suggested donation $5.
23 November, Sunday - 5:00 PM
LA POESÍA SALON: THE MUSIC OF YOUR LIFE
In the Bookstore
A salon style meet up of Spanish language and bilingual poets sharing their work. This month features DORAINE PORETZ
and the legendary Writing Down The Music of Your Life Workshop! Bring original multilingual poetry to share. Potluck Party.
Bring poems and a snack or drink to share. Hosted by ANTONIETA VILLAMIL. Suggested donation $5.
23 November, Sunday - 7:30 PM
7 DUDLEY CINEMA
CLASSIC COMEDY FILMS - Groucho Marxist Gerry Fialka reinvents the joke: "TV is very educational, every time someone
turns it on, I go in the other room and read a book." With rare film clips and fiery discussion. Laughtears.com.
Suggested donation $5.