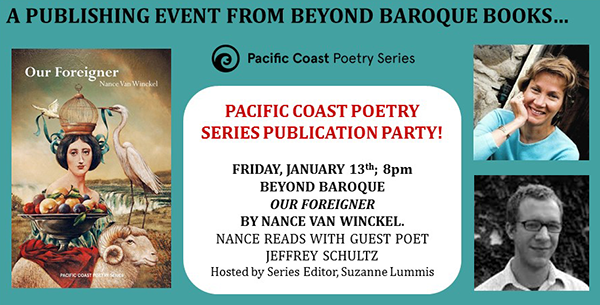 Through personae wry, savvy or wistful, Our Foreigner charts an American West sometimes mysterious, elliptical, and sometimes oddly familiar. Nance lives in Washington State and is the author of seven other books of poetry. Jeffrey Schultz is the author of two National Poetry Series Selections: Civil Twilight and What Ridiculous Things We Could Ask of Each Other. He is a Visiting Assistant Professor of English and Creative Writing at Pepperdine University and lives in Los Angeles. Hosted by Suzanne Lummis. Regular Admission.
Free and Professional Workshops given weekly. Join our community!



The Debriti Show!
by JonMarc Edwards
DON'T MISS IT!
February 4 to February 26


The Scott Wannberg Bookstore and Poetry Lounge is open for browsing.



Check out our regular monthly music, poetry and literature programming.







PRESENT:
WRITERS RESIST
Hosted by David St. John.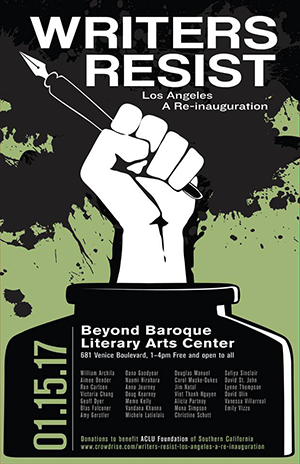 WRITERS RESIST
LOS ANGELES: A RE-INAUGARATION
Poets and writers have a responsibility to preserve language in all its truth, whether beautiful or ugly, and to resist any attempt to put their art in the service of the powerful.
FREE but donations gratefully accepted.
BEYOND BAROQUE PRESENTS:
KING CON
Hosted by S.A. Griffin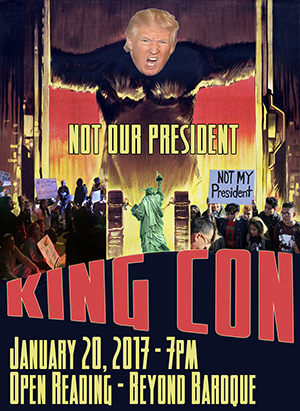 KING CON:
INAUGURATION DAY OPEN READING
An open reading on January 20th in response to the inauguration of the 45th President of the United States with a 3-5 minute time limit, depending upon how many voices show up to join the first amendment hallelujah choir.
FREE ADMISSION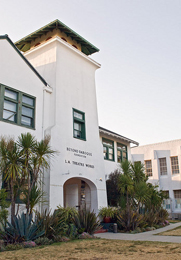 Founded in 1968, Beyond Baroque is based out of the original City Hall building in Venice, California...