**NOTE**: we will be closed on Friday, July 3 but open on Saturday, July 4.

Check us out!

The Scott Wannberg Bookstore and Poetry Lounge is open for browsing.

Beyond Baroque hosts regular night and weekend workships free to the public.

Check out our regular monthly music, poetry and literature programming.

The Archive boasts over 40,000 books and pieces of art from artists in Venice, Los Angeles and beyond.

Upcoming events at Beyond Baroque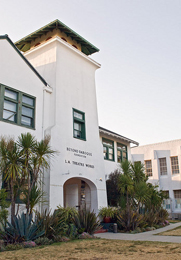 Beyond Baroque is one of the United States' leading independent Literary | Arts Centers and public spaces dedicated to expanding the public's knowledge of poetry, literature and art through cultural events and community interaction. Founded in 1968, Beyond Baroque is based out of the original City Hall building in Venice, California. The Center offers a diverse variety of literary and arts programming including readings, workshops, new music and education. The building also houses a bookstore with the largest collection of new poetry books and CDs for sale and an archive that houses over 40,000 books, including small press and limited-edition publications, chronicling the history of poetry movements in Los Angeles and beyond. Through the years, Beyond Baroque has played muse to the Venice Beats, the burgeoning Punk movement and visiting scholars. Many of the city's leading literary talents, including Dennis Cooper, Wanda Coleman, Tom Waits, Exene Cervenkova and Amy Gerstler, are alumni of the Wednesday night poetry workshop. Many of the worlds most well known independent artists, including Patti Smith, Michael McClure, Dana Gioia, and Viggo Mortensen have performed on its stage.
**********************************************************

Memorial at Beyond Baroque 
August 2, 2015, 1:00 - 4:00 PM
Mel Weisburd RIP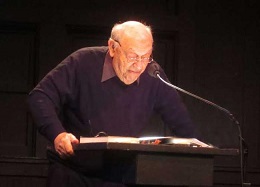 We mourn the loss of Los Angeles poetry stalwart and Beyond Baroque supporter, Mel Weisburd. Mel's poetry and essays have appeared in The California Quarterly, Coastlines, Midwest, Epos, San Marcos Review, Blue Mesa Review, Lummox and other journals and in the anthologies Poetry Los Angeles:I, Poets of Today: A New American Anthology, Eating the Pure Light: Homage to Thomas McGrath Women in Metaphor: An Anthology of Poems Inspired by the Painter Stephen Linsteadt. With Gene Frumkin Mel co-founded the legendary L.A. poetry journal Coastlines. He was married to the deceased artist Gloria Weisburd and is the father of the poet Stefi Weisburd.