Free and Professional Workshops given weekly. Join our community!



• F451: an artistic tribute to Ray Bradury's Fahrenheit 451



The Scott Wannberg Bookstore and Poetry Lounge is open for browsing.



Check out our regular monthly music, poetry and literature programming.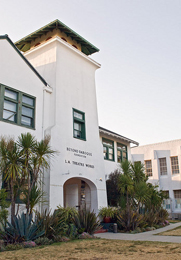 Founded in 1968, Beyond Baroque is based out of the original City Hall building in Venice, California...
ADELLE JOAN FOLEY
(August 15, 1940-June 27, 2016)
Adelle Foley was a poet, a social, neighborhood and arts activist, and, for the past twenty years, a member of the administration of AC Transit. She was, in addition, a devoted and loving mother to her son, Sean Ezra Foley, and a deep friend to her daughter-in-law, Kerry. She married poet Jack Foley on December 21, 1961 (the longest night of the year), and their marriage was a long and happy one. The Foleys were familiar and much-loved figures in the local poetry scene, performing duets of Jack's unique choral pieces and Adelle's haiku. Beat poet Michael McClure wrote, "Adelle Foley's haikus show us humanity. Their vitality and imagination shine from her compassion; from seeing things as they truly are." Jack writes of "Your presence next to me as we read poetry together…your voice rising to mine."